CEMBA is designed to adapt to the busy schedules of C-level executives and company owners.
Each participant is provided with a unique opportunity to decide when and where to take MBA modules and explore our large MBA network in SEE Europe.
PROGRAM STRUCTURE:
customized curriculum
PARTICIPANTS PROFILE:
C-level executives, company owners
LOCATION:
Slovenia, Croatia, Serbia, UAE, Bulgaria, Romania, Bosnia and Herzegovina, Macedonia, Montenegro
What makes
CEMBA unique?
Extreme flexibility in attendance
CEMBA is unique as participants choose when and where they wish to attend selected modules in a period of up to 3 years thus, having the MBA program adjust to their own personal timetable.

Premium networking potential
In every given year CEMBA participants can choose to attend selected MBA modules with up to 6 different E/MBA generations and over 300 executives from SE Europe. This is an amazing networking potential boosted further with over 2.000 MBA alumni and over 20.000 satisfied clients of the school. Apply your learning directly to your workplace During the CEMBA program, you will address current work challenges with your peers and lecturers and apply new learning directly in your workplace via the individual project*.
How is CEMBA structured?
Prior to the program, participants will assess their current trajectory and business priorities, as well as their management styles. Subsequent classroom and group work will be devoted to assessing the breakthrough potential of these priorities and developing approaches to make the breakthrough happen. Two dimensions are emphasized: strategic improvement and leadership improvements. These come together in each participant's personal agenda and action plan.

*The individual project is an important learning vehicle in the CEMBA program and can be offered as a significant and real 'pay back' to participants organization. This gives participants the opportunity to work individually on a project, to analyse and resolve complex business problems using the business skills, frameworks, and tools acquired in the program.
Admissions criteria
There is no single formula for a successful candidate. Therefore, we prefer the individual approach in order to look into candidate's strengths, achievements and potential.
Application process
Feel free to contact our Admission Manager for the CEMBA program. Our aim is to help you with all details about education. There's no need for you to spend your valuable time. Our Admission Manager will contact your assistant and prepare everything ensuring the circumstances of your program start.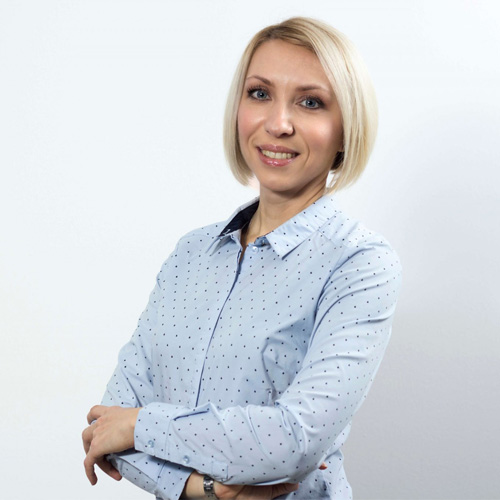 Gordana Špišić
CEMBA program director
In this crisis, you need to find someone to push you in the right direction, someone who will give you advice and help to achieve results. Our CEMBA program will give you all you need to be even better. Now is the time to learn something new, and apply it in your business.
Tuition fee and payment
Tuition includes entry leadership assessment, creation of development plan, individual project mentoring support, mandatory teaching materials, business development support via alumni network, and complimentary participation at all additional educational and networking events organized by the School.
Want to learn more about the program?
If you feel that CEMBA is the preferred program for you, please fill out the form below and our representative will contact you as soon as possible.
It's never too early to start looking for extra information!
Get inspired by our alumni
Our Alumni come from a variety of professional backgrounds. COTRUGLI E/MBA participants are managers, IT experts, engineers, doctors, consultants and bankers, all acting in unison to provide a stimulating and challenging environment, inspire motivation, and learn new skills and tools that are applicable immediately at work.
Turn your contacts into contracts!
---