The world we live in functions more in chaos than in order. Ordo ab Chao (order in chaos) will focus on the unparalleled conditions we are facing in the environment. Pandemic risks, climate change, globalization and technology are challenging the sources of order and authority that have guided us all for centuries.
What should be the role of leaders in this context?
Join us for a free virtual lecture and find out
what should the leader's agenda be in order to keep up with these trends.
Book your seat
Application deadline is March 31, 2020.
Application requirements:
Work experience (minimum 3 years), fluency in English, University degree.
***Only applicants that provide valid contact information and satisfy the application requirements will be contacted with next steps to participate in the virtual lecture.
Sorry, applications are closed!
All seats are booked!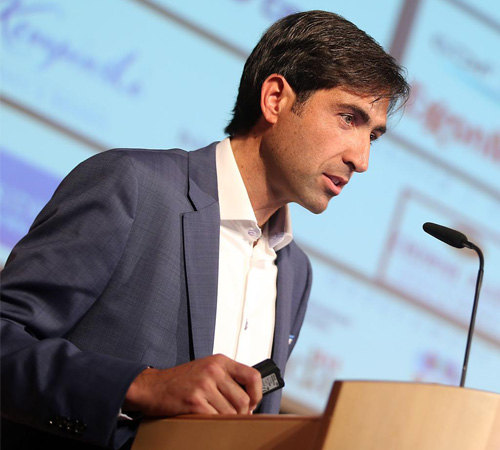 Worked with executives from more than 400 companies, representing more than 75 countries
Global expert executive trainer, professor and consultant for more than 15 years
Expertise: Corporate Global Strategy, Marketing and Branding and Internationalization Processes
One of the best-rated professors at COTRUGLI
This was the best professor in integrating knowledge, personal attitude to students, managing the flow and the mood and at the end inspiring speaker!

The professor is one of the most charismatic and engaging lecturers, he managed to keep our attention throughout the whole module and to sustain high level of energy and participation.

I am very impressed by professor for his broad knowledge and the way he interacted with the students.

Communication with the students was a real and useful conversation. Listening and responding of the professor on individual level was highly appreciated.

Professor had a lot of business examples he shared during the course which helped me to get the ideas more quickly and efficiently.

His lectures were engaging, inviting for all to contribute, relevant and applicable.

Through my academic and professional development and career I was "exposed" to many and various types of lectures. Prof Kfuri outperforms if not all of them, then the vast majority.
1+ About the topic:
Unprecedented trends are transforming more rapidly than ever before the world we are living in, the societies we built, the consumer profiles and aspirations, and the companies we manage. What should the leader's agenda be to keep up with them? Ordo ab Chao will create an special sensitivity towards the unparalleled conditions we are facing in the environment. The world we face functions more in chaos than in order. Pandemic risks, Climate change, Globalization, AI, ML, IoT, etc. are challenging the sources of order and authority that have guided us all for centuries. What should be the role of leaders in this context? Which specific skills and tools should a sounded manager master? There are no unanimous answers to those questions, but there are certain practices that should allow us stepping on a solid ground from where to look at the future. Anticipating Global Consumer Trends, New Business Models Configurations, Innovation and Agile processes, Storytelling skills, strong Corporate Brand Identities, among other aspects, will help us spot a horizon of potential success.
Find out why COTRUGLI MBA is still the first choice for business leaders!
This Virtual Lecture is a perfect way to find out why COTRUGLI MBA is a right choice for you with a minimal time commitment and no cost.

***Favorable enrollment advantages apply!
Why MBA at COTRUGLI?
COTRUGLI Business School is a central place for exchanging business knowledge and experiences, as well as developing international networking


Immediately applicable knowledge


Internationally accredited program
Discover a wide range of opportunities that make education at COTRUGLI a life-changing experience!
What Alumni say about us?
It is only at COTRUGLI that you can use couple of hundred brains to develop your own business for free.

You need a program that will broaden your knowledge across every discipline of business and management, sharpen your analytical skills and boost your confidence. And I experienced all that at COTRUGLI Business School.

I learn how to work diligently through problems. How to multitask and prioritize. How to think in a structured way, and to efficiently communicate ideas. I learned things on Sunday, and I successfully applied them on Monday. After attending COTRUGLI Business School I started to grow faster than ever.

Whether you are trying to change your workplace, salary, industry or start your own business, this experience is a motivation that I would recommend to everyone as the best boost to fulfill your wishes!

Our growth and learning didn't finish after our graduation. COTRUGLI showed me the way how to continue this lifetime process, opened a new perspective end encouraged me to aim higher in my business career.