Each program we design is different; it is unique to your organization and your particular challenges.
More than 16 years of experience in delivering customized programs for some of the largest companies in SEE make COTRUGLI Business School a truly reliable partner in achieving business excellence. From first contact to delivery and follow-up, our renowned and globally diverse faculty, thought leadership, learning related to content and partnership approach, make our customized programs a unique learning experience.
Leadership development programs
Assisting executives to optimize
their leadership profile.
Corporate MBAs / Mini MBA programs
Preparing talents for managerial
positions within organizations.
Company-specific seminars & programs
Customized interventions
for company's current needs.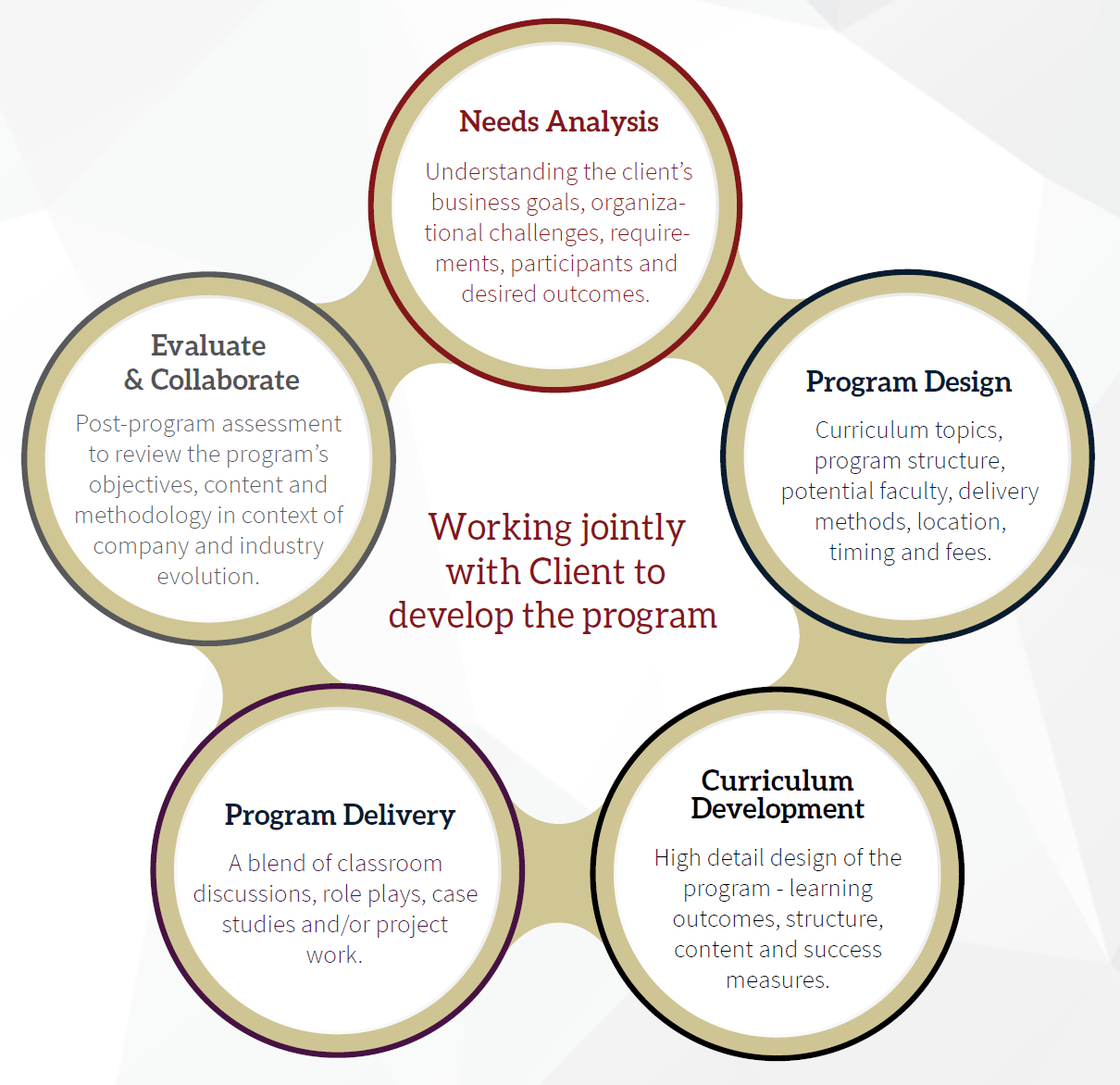 Zdravka Demeter Bubalo
Group Human Resources Vice President at MOL Group
"For the design and delivery of the Emerging Global Leaders stream of our LEAD Program we collaborated with the outstanding regional business school, COTRUGLI Business School. As a proof of the fruitful relationship, LEAD Program has won two leadership awards in 2014: Leadership Excellence Award by HR.com and Asia Training & Development Excellence Award."
Mojca Domiter
Group HR Executive Director at Atlantic Group
"It was real pleasure cooperating with experienced and professional COTRUGLI assessors, who both successfully managed and delivered assessment process for Atlantic's Adventure program. They were extremely professional and reliable in all assessment phases, starting from the testing of English knowledge, over conducting competency-based interviews, evaluating case study analyses and delivering final assessment workshop."
If your organization is pursuing new business strategies, leadership development or company-wide transformation, we look forward to discussing how collaboration with COTRUGLI can help you deliver the results you are seeking!
Get inspired by our alumni
Our Alumni come from a variety of professional backgrounds. COTRUGLI Executive MBA participants are managers, IT experts, engineers, doctors, consultants and bankers, all acting in unison to provide a stimulating and challenging environment, inspire motivation, and learn new skills and tools that are applicable immediately at work.
---
I will remember the last 2 years as time when I pushed myself outside the comfort zone, gained plenty of knowledge that improves my professional engagements, and overall as time of self-improvement and raising self-confidence.

It is not only about the title, it is about the personal growth and the support I have experienced within the program. I made lifelong friendships and some of the best memories of my life. I am so glad I had the courage to think bigger and braver.

I believe the program is a catalyst for professional change. COTRUGLI experience was beyond useful! I was excited about my classmates and my professors, who brought tremendous diversity of expertise and experience to the program, which immensely shaped my personal and professional development.

Those two years have been helping me to manage at three positions in three different countries and have also met me with people that will remain part of my life.

The education process itself at COTRUGLI has been adapted to today's busy and rushed way of life, but, in its practicality, it has still managed to retain the element of quality which, in the end, is how the relevant audience perceives it.

MBA has helped me to see the bigger picture. Some modules have changed my perception of the business world and some have further developed my knowledge in areas I previously knew very little about.

I moved to a new, better job with significantly better income, and this all happened during the first year of my studies. Nevertheless, there are many other things I feel I gained – knowledge, networking and some really great moments.

While enrolling in an Executive MBA program at COTRUGLI, my expectations referred to new business skills development and network expansion. I gained a lot more! Not only have I developed as a professional, but also as an individual. Not only have I expanded my business network, but made friends as well.

Top-class professors in an efficient and high-quality way, tailored to fit our business schedule, delivered a considerable amount of knowledge and insight into the latest business trends.