Become a part of the largest international MBA network in the region!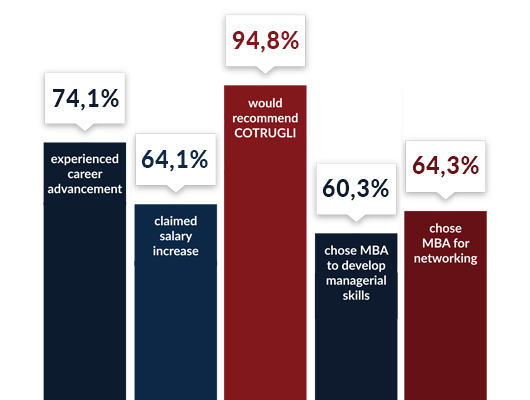 Our Alumni come from a variety of professional backgrounds. More than 70% of COTRUGLI students are in management positions in larger or smaller organizations in the region, either as directors of companies and departments or as entrepreneurs. COTRUGLI E/MBA participants are managers, IT experts, engineers, doctors, consultants and bankers, all acting in unison to provide a stimulating and challenging environment, inspire motivation, and learn new skills and tools that are applicable immediately at work.
The power of alliance and life-long friendship with highly influential individuals for most of our participants represents a return of invested time and money even before the educational program is completed. Joining a team of leaders from a variety of industries, you will improve your current job and business opportunities.