COTRUGLI Business School, as the exclusive distributor of the SiA program in SE Europe, invites you to join the demo workshop before launching 2nd generation of strategic leaders and experience firsthand the program's value.
When: Thursday, November 9, 2023 (15-17h)
Where: COTRUGLI Business School, Zagreb
Unlock the power of SiA – Strategy in Action the ultimate platform that drives success for your business strategy.
With a staggering 67% of organisations struggling to execute their strategies effectively,
SiA is your key to tipping the scales in your favour.
Create your strategy using proven methods and streamline the workflow during execution so that you can focus on delivery.
Note: Participation is complimentary upon registration, but there are limited spots available. Secure your spot by registering early!
The problem
Strategy is key to the success of every organization. Despite all the support and guidance available, many companies still struggle to formulate, execute and monitor their strategy.
Strategy still is managed with inadequate tools like spreadsheets and PowerPoint.
The solution
SiA puts your leadership team in a winning position by combining a proven strategy workflow, a powerful e-learning library, and insightful data augmented by facilitated workshops.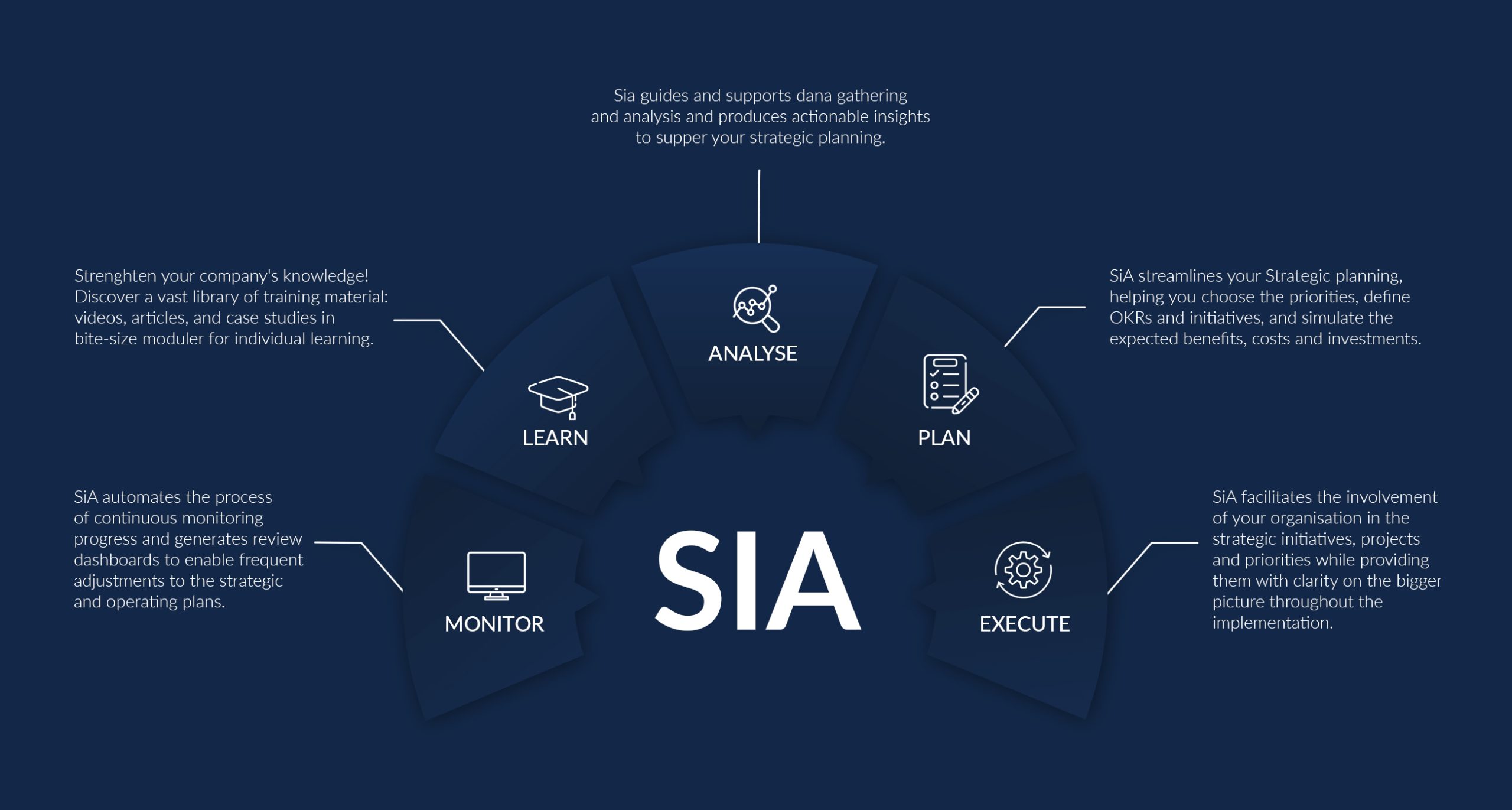 SiA provides a modern toolkit for strategy development, planning, execution, and monitoring. As a dedicated partner, PBZ assists companies looking to enter capital markets, offering guidance for debt instruments or IPOs.

SMEs, the backbone of Europe and Croatia, face challenges accessing capital for growth. SiA equips them with essential financial market knowledge and resources.

A robust small and medium-sized enterprise (SME) sector is indispensable for nur-turing a thriving market economy, and the SiA program is tailored precisely for these enterprises.

The SiA program seamlessly integrates strategy formulation, fostering transparent communication of vision and objectives. It prompts reassessment, leading to robust long-term perspectives.

SiA provided structure, coaching, and valuable self-reflection time to enhance our strategic coordination and business development.

We're delighted with the SiA program's quality, user-friendly platform, and excep-tional lecturers. It's been invaluable for gaining insights into our business and pre-paring our strategy for future growth.
Discover the Secret
to Successful Strategy Execution