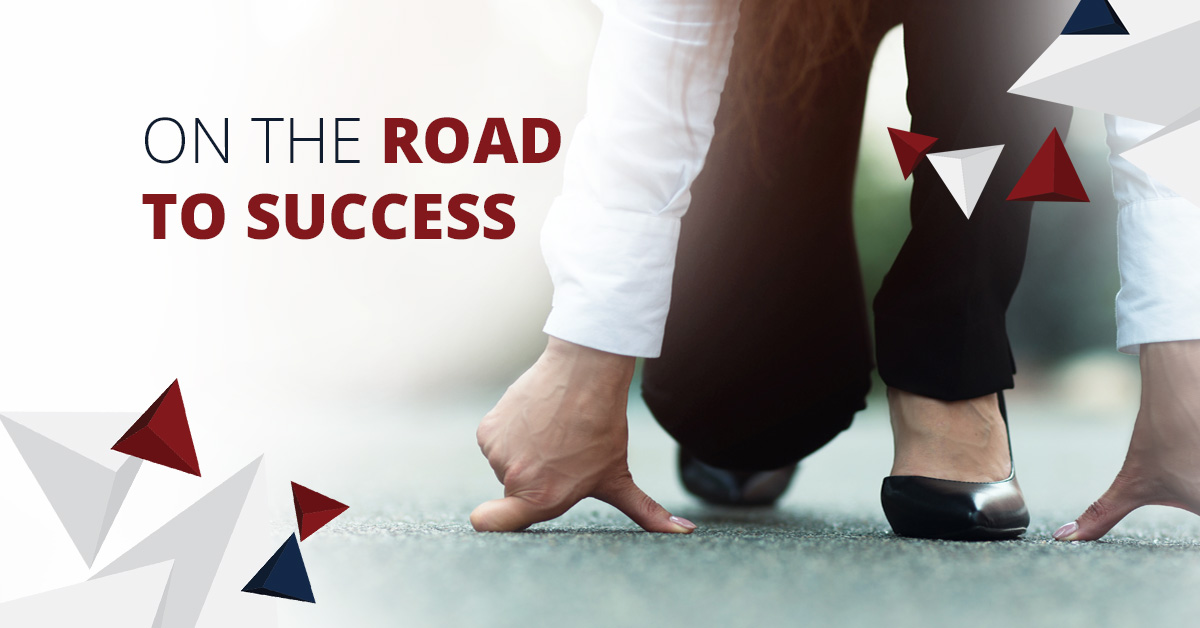 COTRUGLI MBA as a key step in your career development
13/05/2022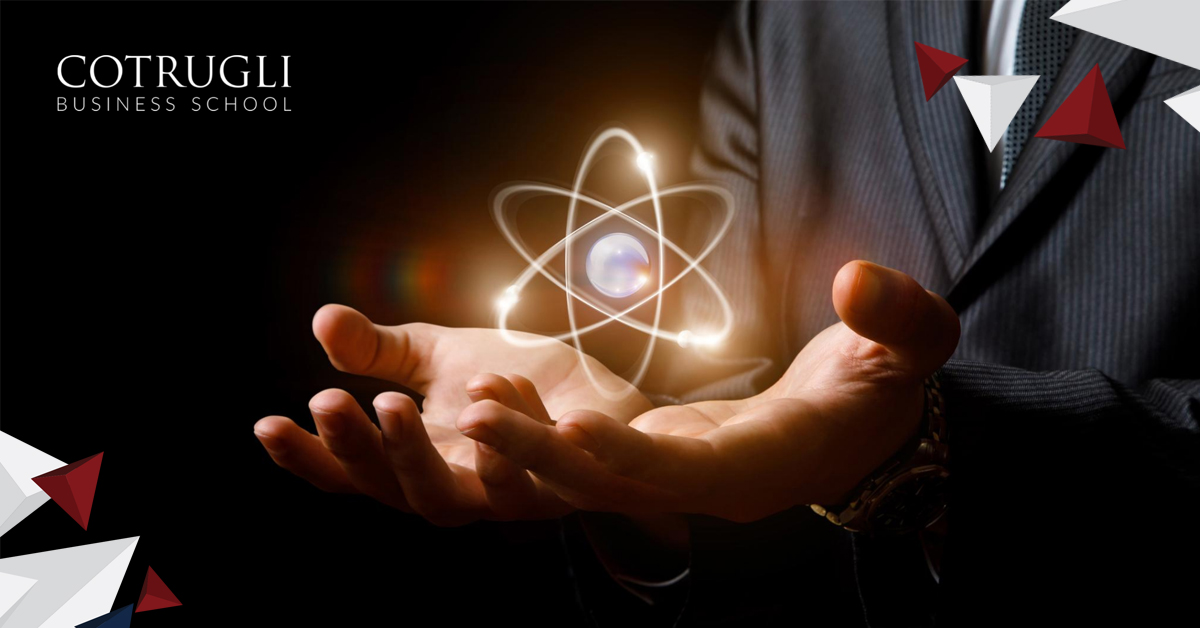 Can nuclear energy use meet Croatia's energy needs?
24/05/2022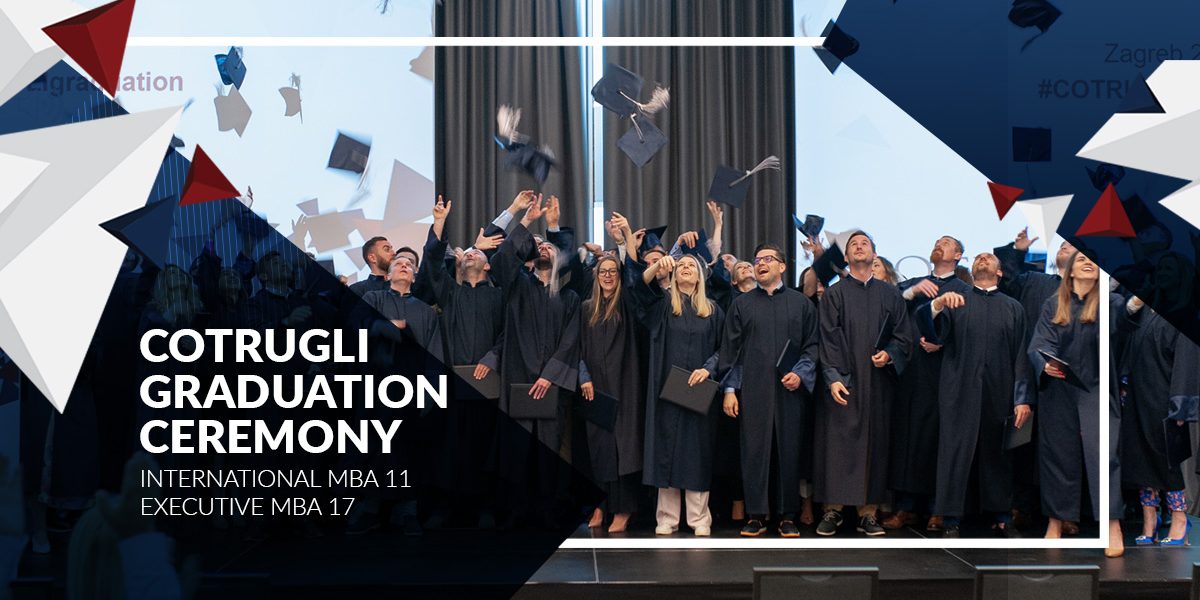 The regional business scene has become richer for 100 proud COTRUGLI MBAs
The graduation ceremony of new MBA individuals who underwent an extensive education process at the COTRUGLI Business School took place on Saturday, May 14, 2022, in the festive atmosphere of the Hilton Garden Inn in Zagreb.
The regional business scene has thus become richer for about a hundred MBAs who have earned their recognition with exceptional effort and commitment during the program.
Together We Are Stronger
Proud newly promoted MBA holders were sworn in on Saturday and pledged to serve the common good by bringing people together and creating unique value that no individual can create alone while approaching problems and challenges highly ethically. They also promised to consider the interests of shareholders, associates, customers and the company in which they operate.
The lied down oath also included a promise and full support to all current and future generations of COTRUGLI alumni that they will be here for each other and will never abuse gained trust.
The Best Of the Best - Class Valedictorian
Special awards for the most successful participants. Every COTRUGLI graduate has worked very hard to obtain their degree, but there are some whose achievements stand out from the crowd. 
We are proud to announce the names of the most successful participants - class valedictorians of International MBA 11th generation and Executive MBA 17th generation. 
Filip Haralambos Apostolakopoulos (Medtronic, Serbia), Ljiljana Pintarić (Business Intelligence, Croatia), Maida Gopo Hamzić (United Nations Development Program, BiH) and Vladimir Jerebić (Raiffeisenbank Austria) received a special award as the best of the best in 11th International MBA generation. At the same time, Dea Marušić (Strategio, Croatia) was named the best student in the 17th Executive MBA generation.
Names behind future leaders
Congratulations to all the graduates! Thank you for choosing COTRUGLI to develop your careers! We stay with you to monitor your progress and provide any professional help and advice you may need on the way up. Welcome to the most extensive MBA alumni community in this part of Europe! Your success is our success!
MBA 11
Aleksandar Lošonski, Senior Associate, Financial Advisory Services at Deloitte
Ana Matešić, Assistant Director at Privredna banka Zagreb
Ana Ćorluka, Sales Executive at International Airport Advertising Corporation Croatia
Ana Višić, Regulatory Affairs Associate at Belupo lijekovi i kozmetika
Andrej Pegan, Quality Assurance Group Lead at Hrvatski Telekom
Augustin Krešić, Senior Geoscientist at Vermilion energy
Bojana Kiseloski, Harvard Business Review Advisory Council at Harvard Business Review
Božidar Nikša Tarabić, Senior Expert Adviser for Student Counselling at University of Zagreb
Dinko Đurđević, Consultant at Energy Institute Hrvoje Požar
Filip Strunjaš, Branch manager at Kone
Filip Haralambos Apostolakopoulos, Sales Representative at Medtronic
Goran Medakov, Product owner at Vega IT
Gorjan Atanasovski, Portfolio Manager at Nelt ST
Helena Matuša, Managing Director at Krapina Zagorje Entrepreneurial Centre
Hrvoje Otopal, Senior Finance Associate at M SAN GRUPA
Irma Ćatović, Product Specialist at Novo Nordisk
Ivan Ljubić, Senior System engineer at Combis
Ivan Pavelić, Product Manager at M SAN Grupa
Ivana Božac, Assistant CEO at DHH
Ivica Blažević, Head of Production at greyp bikes
Jelena Matejić, Project Developer at CWP Global
Jovana Raković, Financial Advisory Manager at Mazars
Jurica Kosić, Key Account Manager at Procter & Gamble
Jurica Marković, Army Officer at Ministarstvo obrane RH
Ljiljana Pintarić, Principal Consultant at Poslovna inteligencija
Ljiljana Milić, Director at Egzakta
Maida Gopo Hamzić, Finance officer at United Nations Development Programme (UNDP)
Marija Štambak, Quality Engineer at Dalekovod
Marijana Mišković, Brand Manager at Rox
Mario Mesarić, Director at IRES Ekologija
Mario Skočić, Senior Backend DeveloperSenior Backend Developer at Martian & Machine
Mario Mikolčević, Maintenance and quality control director at Adria Villa More
Marko Malešič, Deputy Head Compliance, Human Resources and General affairs at Vita, življenjska zavarovalnica, d.d.
Mihai Dragomir, Associate professor, Director of university management department at Technical University of Cluj-Napoca
Milena Jaćimović, Country HR Subject meter expert Serbia/ Senior Recuiter EMEA at AMS-Alexander Men Solutions
Miloš Hadžić, Market Access & Product Manager Oncology at Swixx BioPharma
Mirta Matišić, Team Leader - Global Regulatory Affairs Labeling at Xellia Pharmaceuticals
Natalija Mušura, Marketing Manager at Venkon Technix
Nika Cerič, Project Manager at WeScale Agency
Robert Krsnik, Investment Program Senior Expert at INA - Industrija nafte
Sara Ries, Executive Assistant to CEO at Oradian
Stefan Bijelić, Product Manager at Robert Bosch
Tomica Madjerčić, Manager Sport Content & Partnership at Sportradar
Tomislav Kuduz, Head of Product at Codecacao
Tomislav Škulić, Camping Manager at Adria More
Tonči Petrić, TV presenter / News anchor / Journalist at HRT - Hrvatska radiotelevizija
Viktor Popović, Business Development Manager at Combis
Vladimir Jerebić, Head of Model Validation at Raiffeisenbank Austria
Vlatka Kos, Scrum Master at Raiffeisen Bank
Žiga Komac, Consultant at Komac Consulting
EMBA 17
Ajda Brazda Mlakar, Commercial Director at CETIS FLEX
Alen Pecirep, Marketing Director; Member of the board at Boreas
Alenka Lena Klopčič, Communications Specialist at European Climate Foundation
Ana-Marija Đurđic, Apple Retail Account Executive at Apcom
Barbara Gregurek, Associate Director Cardio and Metabolics at PLIVA Hrvatska
Berislav Korpar, Business Leader for Software Solutions at Schneider Electric - Global Operations
Bojan Eskić, Sales Manager SEE at Prochaska Handels GmbH
Dea Marušić, Business Development Director at Strategio
Dino Ranogajec, Project engineer at OMCO Croatia
Domagoj Broz, Director at Trasa Adria
Dražen Lovrenčić, Head of Business Development and Support at KING ICT
Emin Gaš, Project manager at Zagrebačka banka
Goran Kuljiš, Sales manager Balkans at Ferrero
Goran Uzelac, Global Engineering Manager at Amazon
Gordana Špišić, Admission Manager at COTRUGLI Business School
Henrietta Laklija Hanzl, Director of Retail Offer Management at INA
Hrvoje Ivić, Board Advisor at Adriatic Zagreb Factoring
Hrvoje Jelić, Project manager at Interkonzalting
Igor Ćapara, Head of Controlling and Consolidation at Calucem
Iva Tatalović, CFO at Ferrero
Ivica Gašparić, CTO at Verso Altima
Ivo Martinić, Sales & Channel Manager / Germany, Central Eastern Europe & Israel at Baker Hughes, GE
Ivona Hursa, Strategic Group Leader in Residential Marketing Sector at Hrvatski Telekom
Jasenko Hal, Group Manager Project Control & Risk Assessment at RP Global Projekti
Josip Bosak, Voditelj prodaje at Generali osiguranje
Josip Vidović, Aftersales manager at Grand Automotive Group Croatia
Katja Konjar, Finance and operations specialist at Oqema
Krunoslav Sabljak, Director of Application Development Services at Apis IT
Ksenija Galešić, Director of Refinery & Marketing Sustainable Development and Health, Safety and Environment at INA
Manuel Brković, Supply Chain Director at Podravka
Marija Lovrić, Chief Executive Officer & Chief Science and Technology Officer at BICRO BIOCentre
Marin Tolić, Head of ALM & Funding at Zagrebačka banka
Mario Kereković, Director of Non Food Categories at Atlantic Trade
Marko Barić, Managing Director at Typeqast
Marko Sokolović, Project Director at IVICOM CONSULTING
Maro Burđelez, Head of purchase at Tokić
Matej Herceg, Senior Manager Therapy Area Marketing at PLIVA Hrvatska
Matija Palčić, LNG Terminal Operations Advisor at Vopak
Narcisa Knežević, Head of Legal Affairs Division at HEP - Operator distribucijskog sustava
Nataša Kapov Kostovski, Board member, Head of Customer Services at Lemax
Nikola Rosić, Director of Design Engineering at Vertiv
Rudolf Presečki, Deputy Director at Autobusni prijevoz
Saša Barić, Project Manager at OMCO Croatia
Tatjana Peček, Consultant at Combis
Vanja Burul, CEO at Končar - Distributivni i specijalni transformatori
Vedran Obadić, Finance and controlling director for foreign markets at Mlinar pekarska industrija
Zdenko Đula, Division Director at HEP - Operator distribucijskog sustava
Zlata Artuković - Miliša, Director of Finance and Support Services at Save the Children International
Why COTRUGLI?
We asked COTRUGLI MBA graduates what the MBA program has brought them in their careers. Here is what they told us...
"The Executive MBA at COTRUGLI gave me exactly what I expected. I deepened my knowledge of finance, which helped me a lot as an engineer by profession in a commercial environment, I broadened my horizons, and connected with quality people outside my business network. The big thing for me, given the fact that I work regionally in a multinational company, is that professors are  of different profiles, nationalities and approaches. This enables the acquisition of not only professional, but also personal experience and gives additional value to whole program."
"COTRUGLI education gave me an opportunity to look over and enhance my knowledge and experience, as well as get to know business people from other industries and different positions. Overall, it directed me to view things from another perspective: I became bolder to try different strategies and more sure of myself in decision making; pushing me out of my comfort zone and therefor growing, being more efficient and successful."
"The main goals and expectations of the COTRUGLI EMBA journey were to acquire and master business knowledge and skills as well as to gain valuable life and work experience from highly skilled interdisciplinary professionals. During the last two years, I had the privilege to learn both from professors and great highly motivated classmates that I got to know."
"Education at COTRUGLI Business School gave me great insight into all aspects of business processes. In communication with my fellow classmates I got to exchange a broad range of experiences from many different industries, but also I got to gain many friendships. All that helped me grow personally as well as professionally."
"The intense experience of going through financial as well as other aspects of business has definitely enriched my business knowledge. On top of that, working with fantastic people I've met and collaborated has definitely turned these two years into an extraordinary and fun experience. I believe that it will help me in my future business given the new position that requires communication with people in different leadership positions and associated interests or goals."
"COTRUGLI provided me with an insight into well thought out managerial approaches on one side and innovative business practices on the other. It has changed my perspective on strategic thinking and critical analysis. EMBA inspired me with new ideas and greater focus on my leadership skills development and it has also broaden my professional network."
"COTRUGLI Executive MBA helped me to develop new business knowledge and skills with interactive modules and excellent lecturers. My development was not only professional. As an individual, I learned once again about myself, especially about my strengths and weaknesses, and importance of teamwork. It also expanded my network with highly motivated, experienced and self-confident colleagues from different businesses than I come from."
Between dealing with the 'new-normal' and changing my career, in the 2 years during which I attended the EMBA program (2020/21) I decided to get the best out of my MBA journey! I've met some incredible people, once only colleagues, today friends, one day maybe even business partners. I spread my interest span and deepen my knowledge in areas more important to me. Finding a way to do all that in times of crisis is the best lesson I could have learned from my MBA studies."
Invest in success - Join the COTRUGLI MBA community
Investing in business education and personal development is crucial, especially in times of crisis, and is one of the safest and most profitable investments. Bearing in mind the quality of the lecturers, practicality and applicability of the program, the attractiveness of business areas, and the largest network of alumni in this part of Europe, the choice is not difficult!