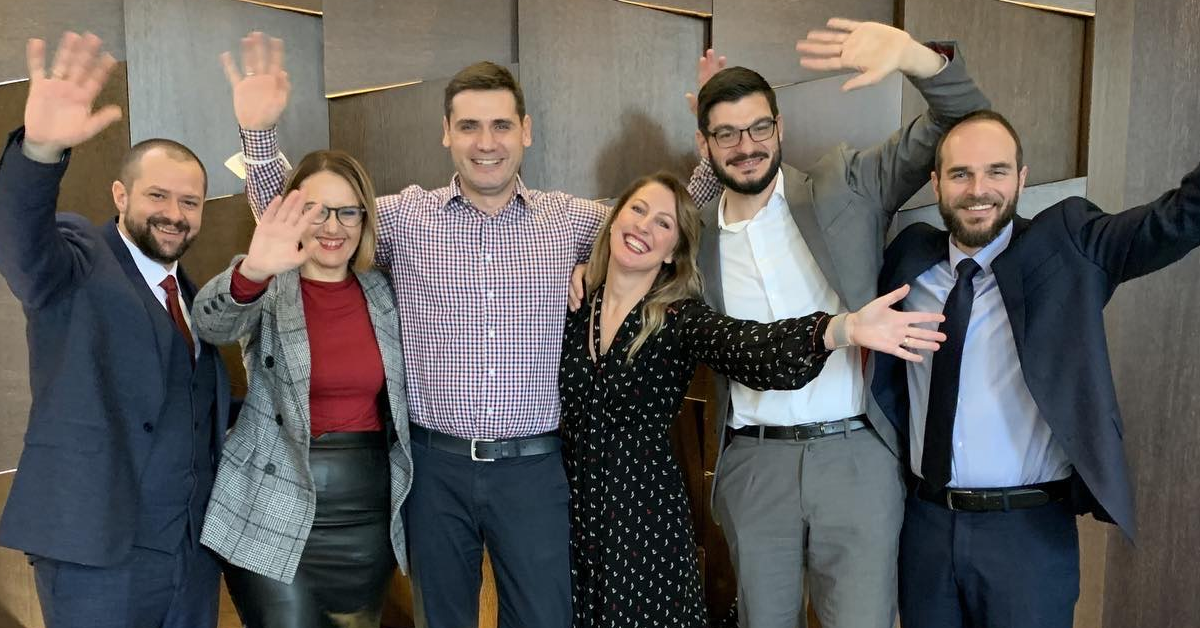 25 new Final Projects successfully defended
20/12/2021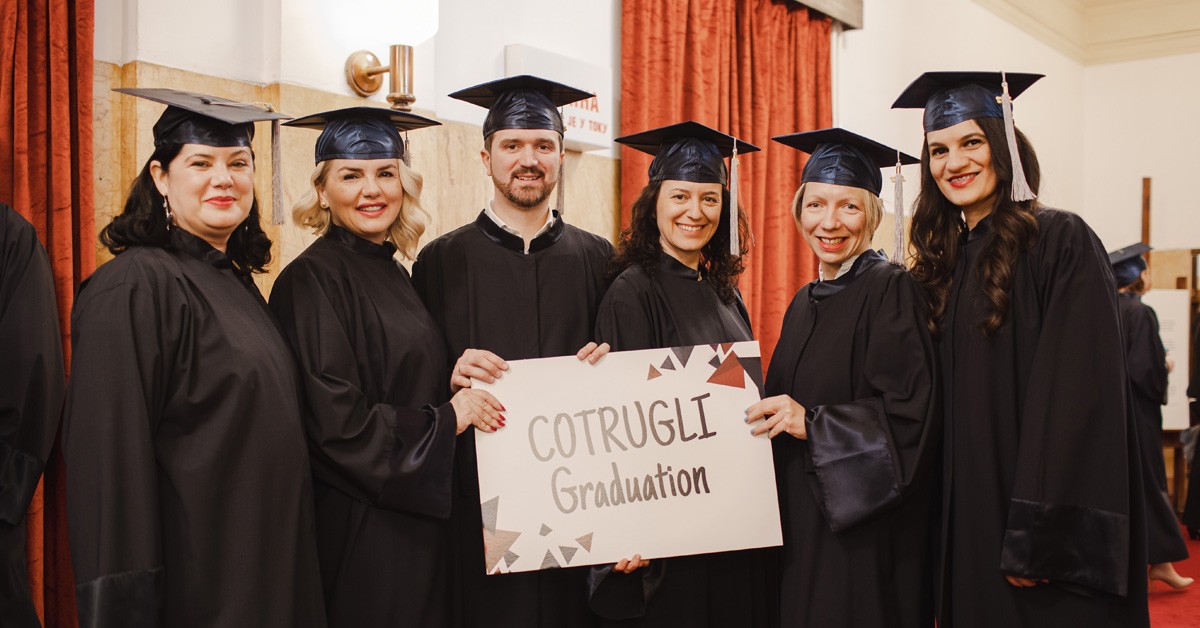 The tassel was worth the hassle! Graduation Ceremony at COTRUGLI
16/03/2022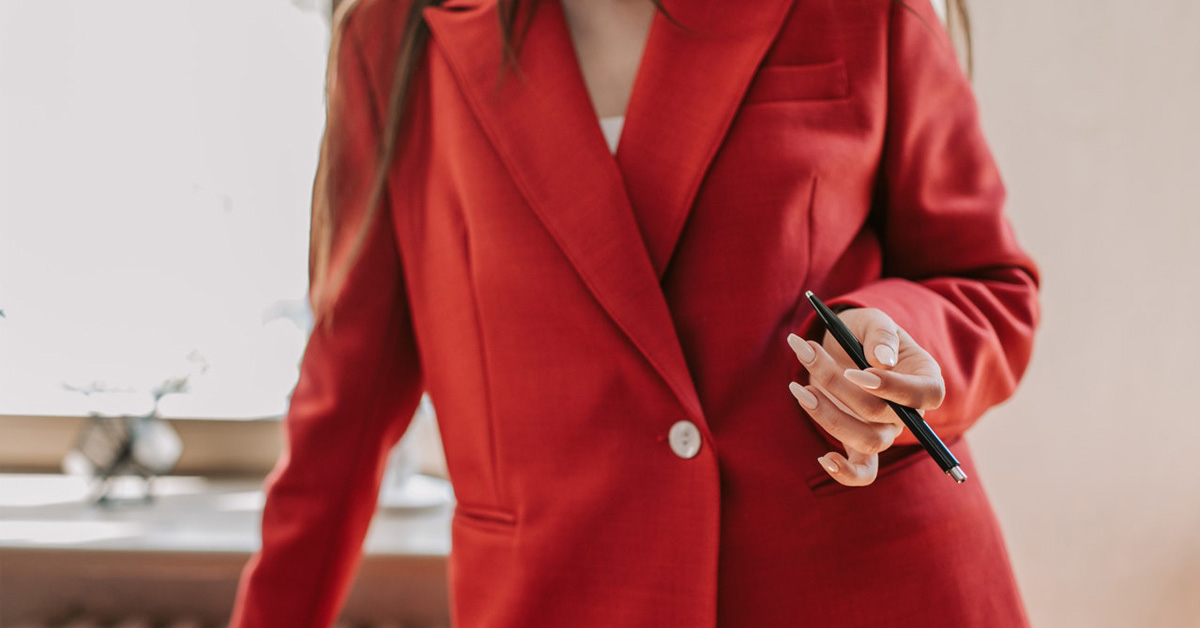 RESEARCH: Women are still underrepresented in the boards of leading companies in SEE region
Despite the growing number of concrete initiatives and raising awareness on gender equality, when filling board member positions, women are still in the minority across SEE region.
Recent research conducted by COTRUGLI Business School has shown that the boards of leading companies in SE Europe (ranked by market cap) still have a very small percentage of women. The research included a representative number of the largest publicly listed joint stock companies in 8 countries: Croatia, Serbia, Slovenia, Bosnia and Herzegovina, Montenegro, Romania, North Macedonia and Bulgaria.
Lagging behind compared to the European average
An analysis of the management structure in 15 largest Croatian joint stock companies reveals that the average share of women in the boards is only 16.5 percent. Bulgaria (16.95%) and Romania (17.55%) have a slightly higher percentage, followed by Slovenia (18.56%), Bosnia and Herzegovina (19.86%) and Montenegro (20.77%). Serbia with its percentage of 27.25 brings back optimism, while Macedonia has the best result in SEE region with 33.98% of women on the boards of the largest Macedonian joint stock companies.
To compare, women in small, middle and large European companies make 35% of the board structure. The highest percentage of women on boards is found in France, according to European Institute for Gender Equality, even 45%.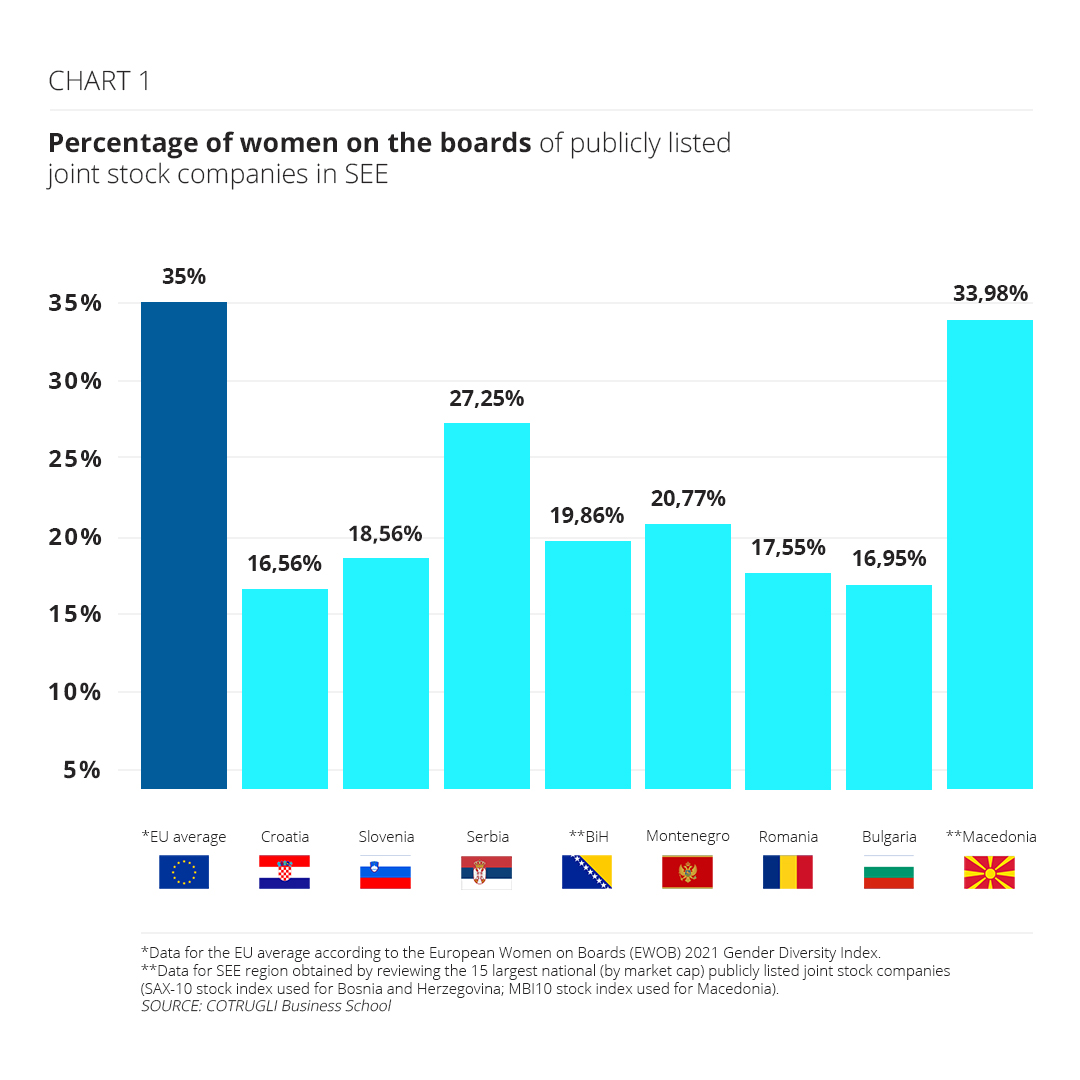 Are the quotas the way to equality?
The European Commission (EC) has also recognized the issue of inequality in corporate management across Europe. According to the EC proposal, which received strong support from President Ursula Von der Leyen, the plan is to introduce a minimum percentage of women in non-executive management positions, between 33 and 40 percent, depending on the size and structure of the company. Companies violating this rule would be facing sanctions imposed by EU national governments.
Women in C-suite
COTRUGLI's research confirmed that the representation of women in C-suite in SEE region remains low. The highest percentage of companies with women in C-suite is in Serbia (25%). It is followed by Croatia and Romania with 15%. In Slovenia and Montenegro this percentage is 7, while in Bosnia and Herzegovina, Bulgaria and Macedonia the percentage is 0.
At European level, 19% of women are in executive level of company decision-makers.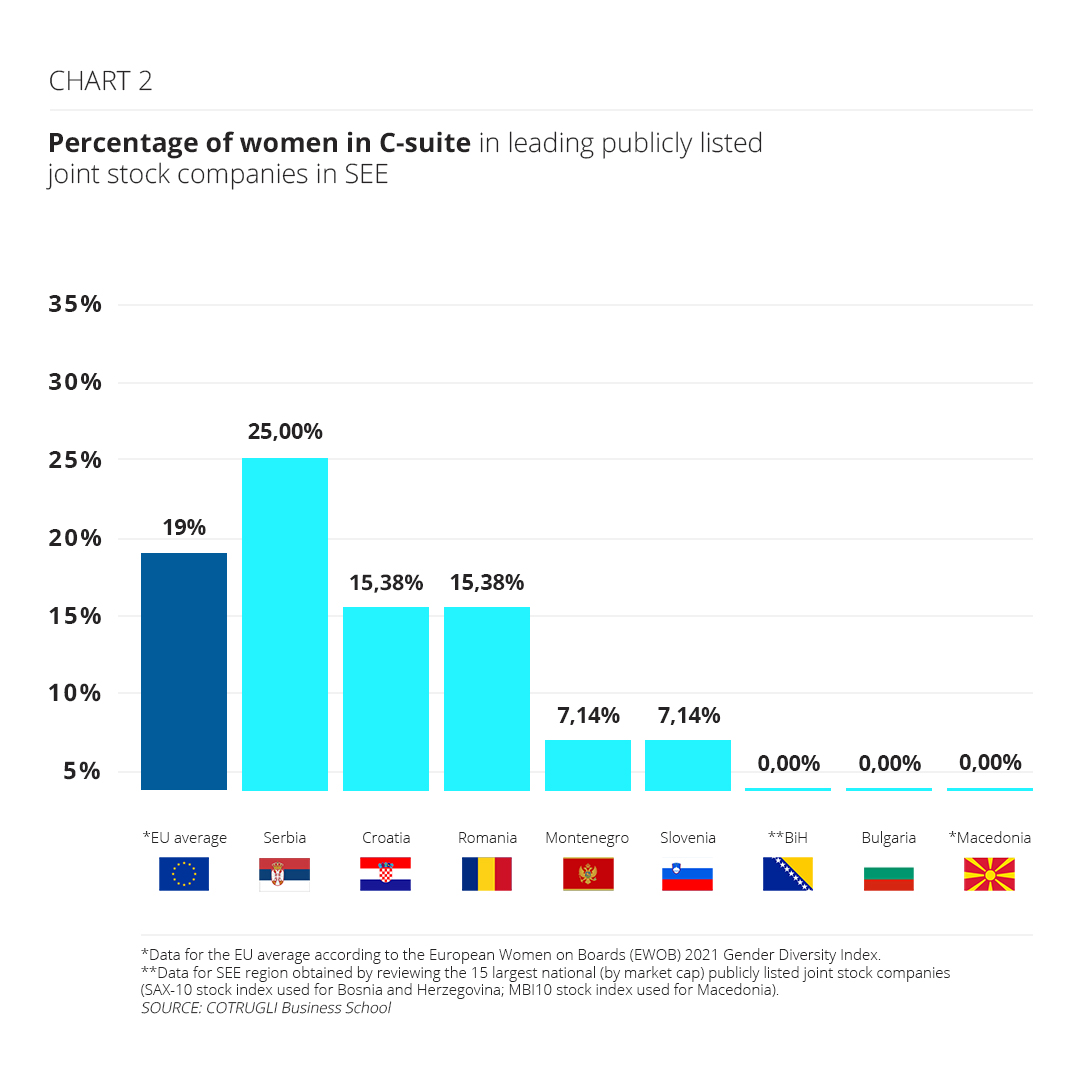 Empowerment of business women
To conclude, companies around the world still need to make great efforts to improve the position of women in the corporate hierarchy in order to make initiatives for diversity, equality and inclusion a priority, both in their organizations and the executive levels. This is the only way to achieve gender equality in board committees.
In addition to promoting women's leadership, it is necessary to support them, provide them opportunities and education so they could lead confidently in the future. By providing funding to support women's professional education, companies empower women to take leadership positions.
Some companies support women's professional development through MBA programs which accelerate career. Over the past few years, the number of women in MBA programs has significantly increased.
Data for SEE was obtained by reviewing the 15 largest national (by market cap) publicly listed joint stock companies (**SAX-10 stock index used for Bosnia and Herzegovina; MBI10 stock index used for Macedonia)